Japanese cuisine is famous around the world for its delicate taste and meticulous attention to detail from the selection of ingredients to the processing stage. In particular, Japanese dishes always focus on nutritional value in order to bring the best benefits to health. Not only are there outstanding names that make many foodies fall in love with such as sushi, udon noodles, ramen noodles, tempura, etc., the land of cherry blossoms also impresses with many other attractive dishes. One of them is Japanese curry rice. And when it comes to this special rice dish, it is even more impossible to ignore the Coco Ichibanya brand – the largest chain of Japanese curry rice restaurants in the world.
Covering in many countries, Coco Ichibanya has now "landed" in Vietnam to bring nutritious Japanese-style meals to all diners. If you type the phrase "What to eat at Landmark 81" on information search pages, surely the results will be indispensable with the presence of Coco Ichibanya restaurant. Coco IchiBanya – Vincom Landmark 81 is located on the 2nd floor inside this tallest building in Vietnam. Landmark 81 is famous for its shopping and shopping center with a series of domestic and foreign fashion brands, modern cinemas and the largest natural skating rink in Vietnam. This place is also the "common home" of nearly 30 restaurants on a monumental area. Owning such an extremely convenient location has helped Coco Ichibanya restaurant at Vincom Landmark 81 become a familiar Japanese-style dining place for fans of Japanese cuisine in general and Japanese curry in particular.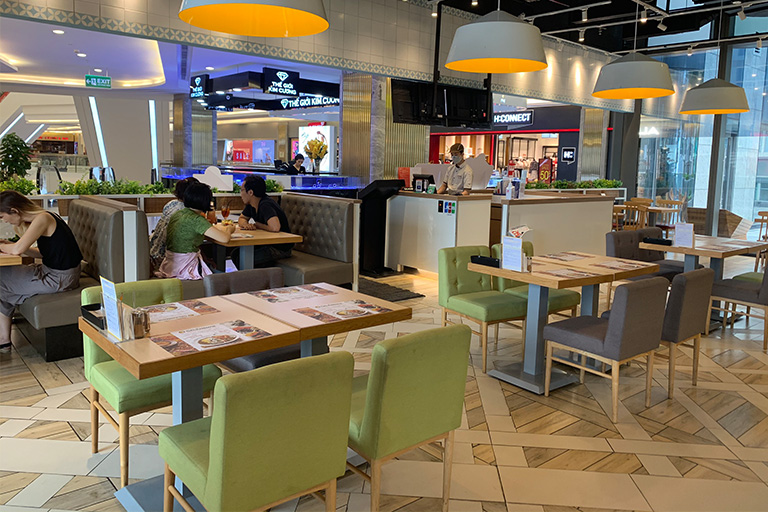 The first impression when arriving at Curry House – Coco Ichibanya is a spacious space with tables and chairs arranged reasonably and neatly. The modern design takes light wood tones as the main theme while creating accents with vintage textured brick background, cleverly combined with fresh green patches to create a very unique beauty for Coco Ichibanya restaurant – Vincom Landmark 81 . Enjoying Japanese curry here, diners will feel the warmth and comfort as if enjoying a family meal at home.
"Taste melting, heart palpitations" in front of Coco Ichibanya's rich menu – Vincom Landmark 81
Glancing around the menu, you will be immediately captivated by the dishes that just hearing the name can't help. Coco Ichibanya is truly a Japanese curry paradise with a variety of tempting choices. Fully inheriting the traditional Japanese recipe, the curry rice at Coco Ichibanya Vietnam consists of two basic ingredients, hot rice and a curry sauce that is somewhat similar to British curry sauce. Different from the curries of many cuisines around the world, Japanese curry rice allows the diners to freely adjust the quantity of rice including 5 levels and 7 levels of spicy. In addition, you will be "overwhelmed" when you know that the menu of CoCo Ichibanya – Vincom Landmark 81 has up to 40 diverse topping ingredients such as Tonkatsu fried pork, Teriyaki chicken, Shrimp Tempura, poached eggs, vegetables, shrimp balls, With such a rich topping, you can enjoy varying curry rice dishes according to your taste and preferences to bring a unique culinary experience.
An interesting revelation that will make you "eyes A, mouth O" is that if we combine the toppings together, we will have about 31,500 options for curry at Coco Ichibanya. In particular, no matter what side dishes you combine, how many servings, the original curry flavor is still fully preserved and not overwhelmed. This is the factor that makes the difference and irresistible attraction of curry rice at Coco Ichibanya – Vincom Landmark 81.
It can be affirmed that the soul of Coco Ichibanya Japanese curry rice lies in the "addictive" sauce, which captivates the taste buds of all foodies, even the most fastidious. Japanese curry sauce is thicker than Vietnamese curry, has a characteristic yellow-brown color, not too strong aroma, light taste, sweeter than Indian curry and less spicy than Thai curry. Inherently, Japanese culinary culture is very focused on the pure taste of the dish, so it is not often overused with spices. When eaten, the curry sauce will blend perfectly with the natural soft and sweet Japanese rice, bringing an attractive flavor that is hard to refuse. The pork or chicken in Coco Ichibanya curry rice is very fragrant and tender and is selected according to Japanese standards.
If you come to Coco Ichibanya – Vincom Landmark 81 for the first time and are confused about what to choose, don't hesitate to call the restaurant's signature dish, fried egg curry rice with fried pork. It is a harmonious combination of fresh egg layer on top of soft white rice, served with fried pork belly (Tontatsu) and of course, surrounded by a delicious sobbing sauce. In addition to fried egg curry rice with fried pork, other "shining stars" are often chosen by many customers on the menu, such as grilled meat curry, chicken fried egg curry with cream sauce, and pork curry. fried cheese.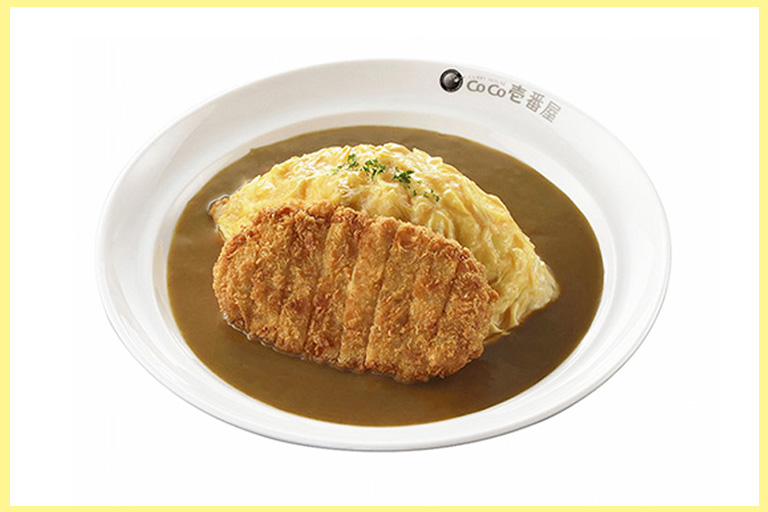 For those who are following a vegetarian diet but still want to experience the taste of authentic Japanese curry, Coco Ichibanya – Vincom Landmark 81 is a place not to be missed. With the creativity and excellent cooking skills of the restaurant's chefs, there are frugal vegetarian curries as delicious as salty curry rice. Vegetarian curry rice at Coco Ichibanya is cooked with plant-based ingredients such as eggplant curry, okra tofu curry, vegetable curry, mushroom curry, spinach, sweet potato, etc. Although it is a vegetarian curry, it still ensures to provide adequate nutrients for the body, helping to maintain supple health.
Besides curry rice dishes, Coco Ichibanya – Vincom Landmark 81 also serves a variety of refreshing salads to meet the needs of all diners, such as tuna salad, corn salad, bacon salad, sausage salad. …Depending on personal taste, you can order a salad combined with a mild sour and fatty roasted sesame sauce or a sweet and salty Japanese sauce that blows a new breeze for this healthy dish. Enjoying curry rice with salad will help the meal become more balanced and delicious, supplementing an abundant source of fiber, vitamins & minerals for the body.
See more restaurant menus here.
Delicious and nutritious, everyone loves it
Curry rice is a popular Japanese dish, present in the daily meals of the people of the land of the rising sun. The reason Japanese people love curry rice is because this dish is both delicious and nutritious for health.
Always upholding the nutritional value of dishes with the desire that customers will have the most satisfying and quality culinary experience, Coco Ichibanya is meticulous and rigorous in every step, from focusing on the selection of ingredients to processing. elaborate. Most of the main ingredients used to process the dish are imported directly from Japan, ensuring safety for customers' health. Curry seasoning is prepared and processed by chef Coco Ichibanya himself according to the brand's own recipe. The salads at CoCo Ichibanya all use fresh and organic ingredients, grown in a closed manner at Lotus Farm in Da Lat.
Possessing the secret to creating a unique flavor for curry rice, Coco Ichibanya – Vincom Landmark 81 easily wins the hearts of diners. The secret lies in the spice mixture contained inside the curry sauce including cilantro powder, turmeric, cloves, star anise, cinnamon, bay leaf, and garlic. In addition to shaping the unique flavor of Japanese curry rice, these spices also bring many good health benefits.
Coriander powder is well known for its beneficial effects on heart health, helping to reduce bad cholesterol, increase good cholesterol in the blood. Turmeric powder – contains curcumin, this compound contains anti-inflammatory and antibacterial components, often used in the treatment of stomach pain, weak intestines, affecting digestive function, making you feel anorexia. Meanwhile, anise and cinnamon are two indispensable spices in curry, helping to increase the spicy and warm taste, regulate blood qi, reduce symptoms of headache, stomach pain or indigestion, reduce cholesterol and blood sugar. blood sugar, treatment of type 2 diabetes. Next is cloves with the highest ability to provide manganese of all foods, effectively control blood sugar levels while supporting strong bones and good skin and hair.
Coco Ichibanya – Vincom Landmark 81, the culinary rendezvous of every soul passionate about food
With a beautiful modern space, located inside the tallest building in Vietnam, CoCo Ichibnanya – Vincom Landmark 81 is not only a favorite destination of business people, office workers but also a cozy place suitable for business. for family meals. You will surely be satisfied with the professional and attentive service style of the restaurant staff. Once you decide to visit Coco Ichibanya – Vincom Landmark 81, diners will have an unforgettable experience with a unique Japanese curry rice dish as well as dispel fatigue, put aside work to fully enjoy the culinary essence. from the land of cherry blossoms.
Coco Ichibanya – Vincom Landmark 81 is the ideal culinary destination for every occasion such as a cozy family meal, a happy birthday party with close friends, or when you are wondering "what to eat tonight"
No need to travel to Japan, you can still enjoy delicious food. Do not hesitate any longer, stop by CoCo Ichibanya on the 2nd floor, Vincom Landmark 81 to discover the taste of standard Japanese curry rice!
If you are afraid to go out in the hot sun at noon or are busy with work deadlines, so you can't go directly to the restaurant for dinner, don't hesitate to pick up the phone and call Coco Ichibanya's Hotline at Vincom Landmark 81 branch to order. Or if you want to be more convenient, you can order "fast – compact – fast" through the Now app, Grab Food to have delicious hot Japanese curry rice delivered to your door.
CoCo Ichibanya Việt Nam – Japan's Leading Curry Brand.
Hotline: 028.7309.9925 – 0932.113.155